Parents and guardians of children who are eligible to enter kindergarten classes and the Early Childhood Centres in Government owned Primary Schools at the commencement of the upcoming academic year are advised that online registration will take place for all schools in Saint Vincent and the Grenadines with effect from Tuesday, June 1, 2021 to Friday, July 9th, 2021.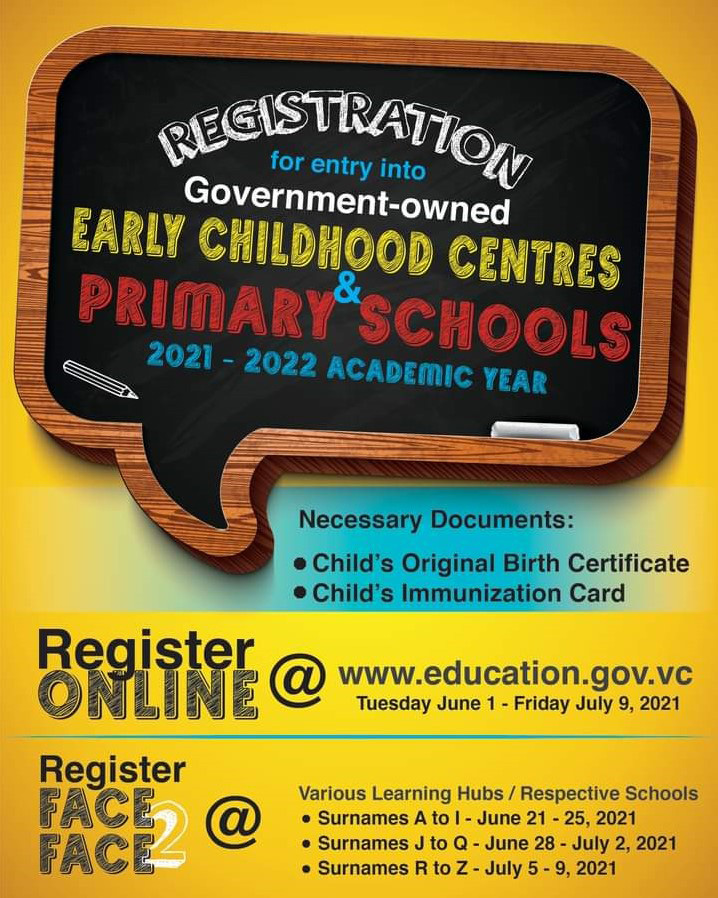 Please be advised that the following documents must be submitted in order to complete the registration process:
Child's Original Birth Certificate
Child's Immunization Card
To register online, please Click here . The Ministry of Education is strongly recommending that parents/guardians utilize the online modality to reduce the number of persons who have to complete in person registration. Face to Face  registration will commence from Monday June 21st to Friday, July  9th, 2021 at the various Learning Hubs or as advised by the respective schools.

The face-to-face registration will be done in batches according to students' surname as follows:
Surnames A to I -June 21st to June 25th, 2021
Surnames J to Q-June 28th to July 2nd, 2021
Surnames R to Z-July5th to July  9th, 2021
Please be reminded that all of the recommended public health measures to control the spread of Covid-19must be maintained during the physical registration process.
SOURCE: Ministry Of Education and National Reconciliation